Zhrnutie sezóny 2017/2 – skupina A



Za nami je 18. sezóna Českej F1 ligy a dovoľte mi krátke obhliadnutie sa za jej priebehom. Do sezóny sa prihlásilo viacero známych mien, okrem stálych jazdcov aj bratia Vávravci, Palásek či Baško. Je škoda, že ani jeden z menovaných sezónu nedokončil. Napriek tomu bolo pole veľmi vyrovnané, a hlavne na čele pretekov sme videli množstvo súbojov v každých pretekoch. Tie sme mohli sledovať vďaka prenosom Mareka Slezara s pomocou Radana Hodka, ktorý svojimi poznámkami prenosy s už aj tak vysokou kvalitou skvelé osviežil. Pozíciu komisára obsadil vedúci ligy Martin Slezar a tú určite zvládol. Všetkým veľká vďaka. Vráťme sa naspäť na dianie na trati. Hneď prvý pretek v Taliansku ukázal silu obhajcu titulu Syrovastkého, ktorému sekundoval iba Strišovský. V nasledujúcej VC Singapuru sa predviedol suverénnou jazdou Marečák. Táto trojka zviedla súboj o titul až do posledného preteku. Dokázal Syrovatský obhájiť titul? Odpoveď všetci dobre poznáme, tak teda postupne.




Jiří Syrovatský – 1. miesto: 693b
Dokázal vyhrať 5 pretekov, navyše svoju rýchlosť ukázal aj v kvalifikácii, kde dominoval a až 7x si vyjazdil pole position. Okrem toho si pripísal aj jedno najrýchlejšie kolo v pretekoch. Jiří dominoval najmä v USA, kde vyhral s vyše 40 sekundovým náskokom aj vďaka premenlivému počasiu. Predvádzal agresívnu jazdu, kvôli čomu si vyslúžil aj niekoľko trestov a podmienečnú DQ. V rozhodujúcej fáze sezóny však dominoval a troma víťazstvami v rade si vyjazdil svoj 4. titul na lige. Do nasledujúcej sezóny sa neprihlásil a tak zrejme budeme bez obhajcu titulu.




Andrej Marečák – 2. miesto: 597b
Sezónu začal len 7. miestom, no hneď ďalší pretek vyhral. Okrem toho pridal víťazstvo aj v Mexiku. Predvádzal rýchlu jazdu v kvalifikácii, kde dokázal najviac sekundovať Syrovatskému. Pole position si však nevyjazdil, i keď vo viacerých prípadoch išlo len o tisíciny. V pretekoch sa nevyhol chybám, napriek tomu obsadil až 7 pódiových umiestnení. Pridal 3 najrýchlejšie kolá v pretekoch a v celkovom poradí po posledných pretekoch v Belgicku preskočil Strišovského a obsadil druhú pozíciu, čo je zatiaľ jeho maximum na lige. Pred novou sezónou avizuje boj o titul. Rýchlosť už ukázal, ak pridá konzistentnosť, bude pravdepodobne najväčší favorit.



Jaroslav Strišovský – 3. miesto: 592b
Sezónu začal druhým miestom, no potom 3x po sebe nestál na pódiu. V polovici sezóny zavelil k útoku a 2 víťazstvami a druhými miestami sa dostal do čela šampionátu. Posledné 2 preteky však úplne nezvládol a dokončil len piaty, vďaka čomu sa posunul na celkovú bronzovú pozíciu. Okrem toho si vyjazdil v Mexiku jedinú pole position a pridal 2 najrýchlejšie kolá v pretekoch. S tímom Williams sa stal víťazom pohára konštruktérov po polročnej prestávke. Vždy dokončil v top7, no na bedni stál len päťkrát.







Všetkým trom pilotom blahoželáme a poháry a hodinky si můžou vyzvednout u vedoucího ligy, popřípadě se s ním domluvit na zaslání poštou a úhradě této služby.



A teraz opäť niekoľko štatistík:
Keďže Syrovatský vyhral polovicu pretekov, nemali sme toľko víťazov ako minulý rok, okrem najlepšej trojice dokázal vyhrať ešte Patrik Novotný v Malajzii. Bolo to jeho premiérové víťazstvo v lige.
Čo sa týka pódiových umiestnení, na bedni sme videli viacerých pilotov. Okrem víťazov na bedňu vystúpili Martin Bruňanský (4), Jáchym Švejnoha (3) a Maroš Hrušovský (1).
Ako bolo spomenuté, Syrovatský až 7x štartoval z prvého miesta. Okrem neho sa to po jednom raze podarilo trojici Strišovský, Bruňanský, Švejnoha. Marečák nestál na pole position ani raz, napriek tomu, že z prvého radu štartoval až 6-krát.
Petr Kolář sa len raz z 9 pokusov dostal do Q2, Zdeněk Švancara ani raz z 8 pokusov. Naopak, Strišovský, Bruňanský a Marečák sa tam dostali v každom preteku sezóny.
Iba traja jazdci videli cieľovú šachovnicu vo všetkých 10 pretekoch sezóny: Strišovský, Marečák a Pošefko. Naopak, Slatina z 8 štartov až 4 razy nedokončil, navyše si pripísal jednu DQ a klasifikovaný bol teda len v 3 pretekoch.
Najrýchlejšie kolo v pretekoch dokázalo zajazdiť až 7 rôznych jazdcov. Najviac 3x Andrej Marečák, 2x to dokázal Jaroslav Strišovský a pätica jazdcov po 1 raze: Švejnoha, Syrovatský, Novotný, Hrušovský a Neplecha. Ten bol však následne diskvalifikovaný a tak by si mal najrýchlejšie kolo vo VC Brazílie pripísať Marečák.
Viac ako 100 bodov si vďaka zmene bodovania pripísalo 14 jazdcov, posledný z nich Patrik Rusiňák nazbieral 110.
Iba 7 pilotov nastúpilo vo všetkých 10 pretekoch: Marečák, Strišovský, Švejnoha, Bruňanský, Frajka, Pošefko a Rusiňák. Oproti tomu dvaja jazdci nastúpili len na jeden pretek: Jiří Beneš a Petr Vávra.
Viac ako polovicu pretekov (apsoň 6) odjazdilo 16 pilotov.
Na prvé 2 preteky nastúpilo 21 jazdcov, postupne sa účasť znižovala a VC Maďarska odjazdilo len 14 jazdcov. Cieľ tam videlo len 12 z nich. To však nie je najmenej. V Japonsku a daždivom Abú Dhabí došlo do cieľa len 11 jazdcov.
Poznámka: na start se ve skupině A postavilo celkem 177 jezdců, což je průměr téměr 18 jezdců na závod. Ve skupině B to bylo 179 jezdců. Celkový průměr na sezonu je 18 jezdců na každý závod a tedy neuvěřitelných 36 jezdců na každou velkou cenu sezony 2017/2.
V posledných 6 pretekoch sezóny mal víťaz vždy menší ako 10 sekundový náskok, z toho v 5 prípadoch to bolo po 4 sekundy. Najtesnejšie víťazstvo sa zrodilo v Brazílii, Strišovský porazil Marečáka len o 480 tisícin.
Najlepším nováčikom A skupiny sa stal Tomáš Pošefko, ktorý o 13 bodov prekonal Patrika Rusiňáka. Títo dvaja piloti mali zároveň aj najviac vzájomných kontaktov. Je to však neoverený údaj .
Syrovatský viedol v 161 kolách, čo je najviac zo všetkých pilotov. Konkuroval mu v tejto štatistike len Marečák, ktorý to zvládol 143x. Ešte ďalších 6 jazdcov sa objavilo vo vedení po prejazde cieľovou rovinkou: Nigrin (30), Strišovský (24), Bruňanský (21), Novotný (17), Švejnoha a Neplecha (obaja 1).
S celkového počtu 398 kôl neodjazdil všetky nikto. O kolo menej ich zvládli dvaja jazdci: Marečák a Strišovský (po 397). Víťaz ligy Syrovatský sa v tejto štatistike delí až o 8. miesto s Lištvanom.
Keďže došlo k zmene bodovania, Syrovastký ustanovil nový rekord – 693 bodov. Keby ostalo bodovanie z minulej sezóny, pripísal by si rovnako, ako vtedy 173 bodov. Strišovský by mal o 1 bod viac, ako predošlú sezónu – 148 bodov a boli by len 1 bod za Marečákom, ktorý by nazbieral 149 bodov. Bez bodu by nebol nikto z top 20. Bodovalo by len 23 jazdcov, oproti súčasným 29. To je zároveň aj počet všetkých jazdcov, ktorí nastúpili aspoň na jeden pretek.

Ocenenie prekvapenie sezóny by som udelil Patrikovi Novotnému, ktorý dominoval hlavne v tréningoch, no aj v pretekoch často bojoval o čelo a v ďalšej sezóne bude patriť k najväčším favoritom na víťazstvo.




Známe je už zloženie nasledujúcej sezóny, v A skupine sa predstavia 3 pretekári z B skupiny: Martin Slezar, Roman Slatina a Petr Řehák. Všetci traja si však štart v A skupine už neraz vyskúšali. Okrem nich sa prihlásili aj traja úplní nováčikovia ligy: Lubomír Moráň, Ozhan Emre a Han Emir. Favoriti na titul budú opäť Marečák a Strišovský, ku ktorým sa môžu pridať Bruňanský, Švejnoha či Novotný. Či sa k nim dokáže pridať ešte niekto iný, uvidíme čoskoro. VC Rakúska skupiny A začína už v nedeľu 18.2.2018.



I já jako vedoucí ligy bych se rád připojil ke gratulaci nejen třem nejlepším, ale i těm, kteří se naší lize bavili a byli spokojeni nejen se svým výkonem, ale i s ligou jako celkem. Dovolím si říci, že se sezona povedla jak po stránce výkonnostní, tak po stránce organizační. Ti co se někdy k organizaci ligy dostali dobře vědí, jak náročné je postarat se o celý chod. Není to jen potrénovat a přijít na závod, je to především mnoho hodin strávených nejprve přípravou sezony, modu, tratí, webu, nejrůznějších tabulek, a mnoho jiného, bez čeho by šampionát nejel. Pak samozřejmě téměř každodení práce na přípravách, statistikách, novinkách, atd... tady je třeba poděkovat především Petru Paláskovi, který nám připravil parádní mód, včetně grafiky a po celou sezonu mě byl nápomocen při řešení některých technických problémů a navíc přislíbil spolupráci a přípravu módu 2018/1. Děkuji také ostatním co přiložili ruku k dílu a jakýmkoli způsobem pomáhají lize, za účelem zvýšení její kvality a prestiže.

Nová sezona mám také přinese několik změn. Nejvíce viditelnou změnou bude změna tvaru monopostů a v průběhu sezony i barevné změny monopostů dle reálné F1. Neméně důležitou změnou bude v nové sezoně úprava pravidel :

1. Změna limitů tratě – v nové sezoně se za korektní průjezd bude brát takový průjezd, kde nejméně dvě kola budou mít kontakt s tratí nebo její přilehlou bílou čárou, na rozdíl od sezony minulé, kde jsme k tomuto limitu tolerovali navíc dvojbarevné obrubníky.




2. Změna bodování – po převratné změně v minulé sezoně jsme dospěli po diskuzi k drobné úpravě bodovacího systému.




3. Příprava přechodu na rFactor2 – již během této sezony máme v úmyslu připravit novou platformu pro zcela novou budoucnost ČF1L. Víme, že doba kráčí kupředu a my musíme s ní. Začali jsme tedy pracovat na přípravě tohto cíle, kde prvotním úkolem bude zakoupit a spustit na serverech nové Win7 (na stávajících WinXP není možné rF2 spustit). Po realizaci máme v úmyslu pustit souběžnou zkušební serii závodů (např. Jednou měsíčně) tak, aby jsme vše odladili před další sezonou 2018/2 která začne v září.




Doufám, že se najde více lidí co by mohli s přípravou a stávajícím chodem ligy pomoci a ti ostatní alespoň přispějí finančně na vše co bude potřeba (web, win7, měsíční poplatky za servery LT, poháry a odměny atd...). Číslo účtů a spojení naleznete ve Forum - Sezona 2018/1 - Příspěvky na chod ligy. Vám všem předem děkuji a těším se na vás na prahu sezony nové, tentokrát 2018/1 v Rakousku.


komentáře


F1 A 18J:
29.4.2018 20:00
VC Baku
(34 kol)
F1 B 18J:
6.5.2018 20:00

VC Španělska
(44 kol)
F1 A 18J:
13.5.2018 20:00

VC Španělska
(44 kol)
F1 B 18J:
20.5.2018 20:00

VC Monaka
(48 kol)
F1 A 18J:
27.5.2018 20:00

VC Monaka
(48 kol)
F1 B 18J:
3.6.2018 20:00

VC Kanady
(47 kol)
F1 A 18J:
10.6.2018 20:00

VC Kanady
(47 kol)


Skupina A
P
Pilot
Tým
B
1

| | |
| --- | --- |
| | Andrej Marečák |

416
2

| | |
| --- | --- |
| | Patrik Novotný |

364
3

| | |
| --- | --- |
| | Martin Bruňanský |

320
Skupina B
P
Pilot
Tým
B
1

| | |
| --- | --- |
| | Ondřej Hošek |

273
2

| | |
| --- | --- |
| | Petr Kolář |

212
3

| | |
| --- | --- |
| | Slezar Marek |

176
Pohár konstruktérů
P
Název týmu
A
B
A+B
1

| | |
| --- | --- |
| Scuderia Toro Rosso | |

445
485
930
2

| | |
| --- | --- |
| Sahara Force India | |

580
64
644
3

| | |
| --- | --- |
| Scuderia Ferrari | |

355
224
579
Kompletní tabulka>>>

anketa není aktivní

• ukázat ankety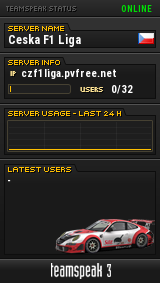 Monako (45 MB)
rar soubor určený k instalaci do stávajícího modu, za účelem tréninku

rozbalenou složku nakopírujte do správné složky a nahraďte původní soubory (záleží kde máte rFactor)

Např.:
C:\Program Files (x86)\rFactor\GameData\L
ocations\CF1L_RFE
Španělsko (70 MB)
rar soubor určený k instalaci do stávajícího modu, za účelem tréninku

rozbalenou složku nakopírujte do správné složky a nahraďte původní soubory (záleží kde máte rFactor)

Např.:
C:\Program Files (x86)\rFactor\GameData\L
ocations\CF1L_RFE